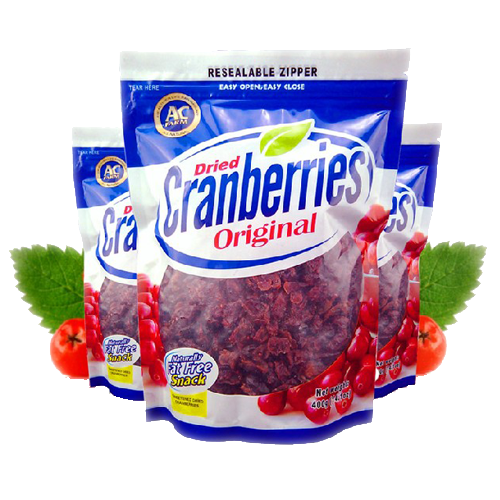 Ingredients: Cranberries, Sugar
Features:
2.

Naturally Fat Free&. Fiber Full
3.

No Artificial Colors, Flavors, or Preservatives
4.

Peanut Free, Gluten Free
Every AC Farm product is produced on the highest industrial standards. Each AC Farm product meets or exceeds the quality standards of the leading national brands.
We always get a pack of healthy, tasty dried cranberries in our pockets to snack on. There are lots of ways to enjoy them: tossed in salads; mixed in yogurts, oatmeals and cereals; as a baking ingredient for cookies, muffins and breads…!
A 1/3 cup serving of Dried Cranberries= 1 full serving of fruit. Diets rich in fruits and vegetables may reduce the risk of some types of cancer and other chronic diseases.
How to Eat It
Open the bag and eat; it also can be cooked.
Storage Conditions: Cool, dry and avoid the keep out of the sun.
Nutrition Facts

Amount

% Daily Value

Daily Values based on 2000 calories diet.